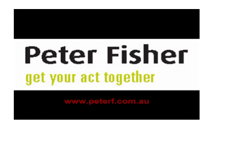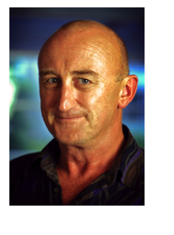 Peter Fisher
is a 1974 graduate of architecture at Sydney University. Like all good architecture graduates in those days, he pursued an acting career, which spanned nearly 20 years, with extensive experience in theatre, film and television.
In 1991, yearning for change, he found himself in the world of corporate communication consultancies.
In 1995, aware of the need for a more imaginative and vigorous approach to corporate training and development, Peter created his own company, Act One! , drawing on the fundamental methodologies of an actor's training, to design innovative and highly interactive sessions with a strong focus on behavioural issues related to leadership, personal development and team development within corporations.
Over the years, Peter has earned a reputation as an energetic facilitator and designer of unique purpose built learning environments.
Peter has developed a solid corporate client base, contributing to a large number of senior executive leadership programs for many clients across Australia and overseas, as well as workshops in leadership presence, personal impact and influence, corporate story telling, teamwork and collaboration, performance in presentation and creative decision making.
Peter has been an adjunct faculty member of the Australian Graduate School of Management for the past 14 years, where he has designed and facilitated many executive programs.
In 2011 he won the Australian School of Business Award for outstanding adjunct faculty program delivery.
His workshops and coaching not only have a personal and group impact but also an impact on business culture and bottom line.
Peter has also directed, "theatricalised" and MC'ed many corporate events and conferences across Australia in theatres and even in a circus!
He also offers a personal coaching service for Senior Executives and CEO's.
Peter lives in Tamarama, in Sydney, by the sea, with his partner, son and daughter.
He loves surfing, ocean swimming, camping, great theatre, movies, live music, cooking great food for friends and family and messing about in his herb garden.
Client executive leadership programs:
Australian Graduate School of Management: AGSM Executive Programs
Leading From Within: 2008-2013
The Authentic Communicator 2013
The Middle Managers Program 2002-2013
Social Media and the Connected Generation Program 2011-2012
Executive Assistants Program 2008
Emotional Intelligence in Leadership 2003-2007
The Corporate Communicator "Impact and Influence": 2000-2007
Accelerated Leadership Program 1998-2008
Personal Productivity Program: Humor in the Workplace 2003,-2004
MBA Course 1999- 2001
Australian Graduate School of Management: AGSM Custom Programs:
NSW Industries and Investment: Leadership Development Program 2011-2013
Boral: Leadership Development Program, 2013
BHP Billiton Met Coal Leadership Program 2012-2013
CSIRO: Leading the Research Enterprise Program, 2009-2013
Sensis : Top Talent Development Program 2010-2011
Forests NSW: Leadership Development Program 2010
Ergon Energy: Leadership Development Program 2010-2011
CBA: Strategic Leadership Program 2010-2012
Westpac: Influencing for Outcomes Program 2011-2013
UTS Insearch: Leadership Development Program Series 2011
Optus: Senior Leaders' Program 2011
The Executive Connection
Resource Speaker: 1996-2013
Australian Institute of Police Management
Police Executive Leadership Program 2003-2013
The Leadership Consortium
Dynamic Leader Program 2009-2012
Executive Capability Program 2003-2007
Leadership Development Program 1998-2002
National Australia Bank
Transformational Leadership Program 1995-2001: Ireland, UK, US, NZ, Hong Kong and Australia.
1st Choice Executive Development Program 1997-2001
Performing in the Spotlight Program Series 1998-2001
Vic Roads
Executive Leadership Program 1997-2000
AMP
Sustainable Leadership Program 2007-2008
"The AFS Story" Communication Workshops 2003
Asset Management Insights Program 1996-2000
AMP Executive Leadership Program 2000-2002
AMP Customer Service: Innovation and leadership 2001
The University of Queensland
Emotional Intelligence and Leadership Staff Development Program, 2004-2007
UNSW
Creative Leadership Presentations Workshop Series 2008-2012
Peter has also designed & facilitated workshop programs for the following clients: Corporate:
AIG, Amcorp, AMP, ANZ, AstraZeneca, Bendigo bank, Blackmores, Catalyst Recruitment, CBA, Centro Properties, Compass Management, CSC, Deloitte Touche Tohmatsu, Dermalogica, Deutsche Bank, Dymocks, Eli Lilly, The Executive Connection, GAB Robins, Gazzard Sheldon Architects, Guidant, Hamilton Island, Hammond Care Group, Hoyt's, Investec, IT Skills Hub, Juniper Networks, Lend Lease, Leo Burnett Connaghan & May Advertising, Mallesons Stephen Jacques, Macquarie Bank, MLC, Monash Mount Eliza Business School, National Australia Bank, National Mutual, Primaplas, RAMS, Rockend, Siltech, Sirona, Starlight Children's' Foundation, Suncorp, Telstra, Tetra Pak, UBS, Westpac
Public Sector:
ACT Drug and Alcohol Agency, ACT Legal Aid, The Australian Institute of Police Management, City of Darebin, CSIRO, Department of Community Services (NSW), The Police Board of Victoria, NSW Treasury, University of Queensland (Staff Development), Transgrid, UNSW, VicRoads